by Piers Torday based on the novel by John Masefield
Wilton's Music Hall, 1st December 2017 – 6th January 2018
Movement Direction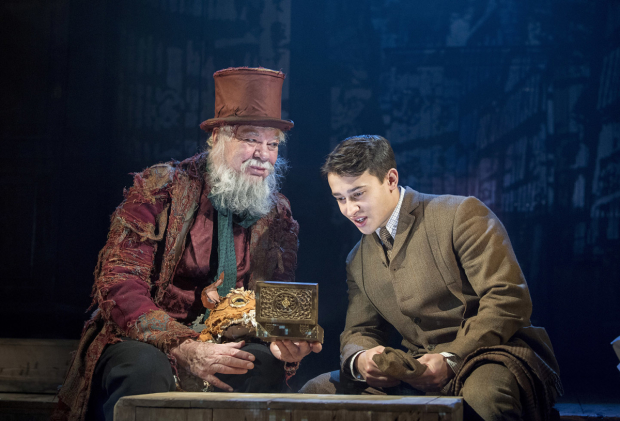 Starring Olivier-award winner Matthew Kelly and three-time Olivier award nominated Josefina Gabrielle, this marks the World Stage Premiere of Poet Laureate John Masefield's much-loved classic, re-imagined especially for Wilton's by Piers Torday whose work includes The Last Wild trilogy (Guardian Children's Fiction Prize) and new novel There May Be a Castle.The tale will be brought to life by an acclaimed creative team including Director Justin Audibert (Royal Shakespeare Company; National Theatre) and Olivier award-winning Designer Tom Piper.
'I couldn't be more excited that such a talented team is bringing The Box of Delights to life for a new generation – and at Wilton's – wonderful!' Stephen Fry
Kay Harker is on the train home from school for the holidays. But this Christmas will be different. His parents are dead, and the wolves are running…
On the train he meets an old magician, Cole Hawlings, who charges Kay with protecting his Box of Delights, a wondrous device with time travelling powers. But when the old man mysteriously disappears, Kay faces the fight of his life to protect the Box, and with it, the people he loves. For Cole's nemesis, the wicked sorcerer Abner Brown will stop at nothing to get his hands on the Box.
The Box of Delights is a magical and festive adventure like no other, in which one boy must enlist the help of the heroes of the past, to defeat the evil in his present. The very future of Christmas itself depends upon him.

 'John Masefield wrote two of the greatest children's books ever written' The Times
'Piers Torday is one of the best writers for children working today' The Guardian
Reviews
★★★★ 'Inventive staging… it successfully creates a world that can contain the traditional and the visionary' The Guardian
★★★★ 'Simple Stage magic. An enterprising Christmas show that makes inventive use of the theatre's atmospheric space… creative visual flair' Financial Times
★★★★ 'the small enchantments keep coming … a DIY aesthetic with inventiveness of detail, as miniature steam trains float through wintry landscapes and stags step out of wardrobes' Sunday Times
★★★★ 'beautiful Frantic Assembly-esque movement by Simon Pittman… a truly charming festive treat that will thrill the kids while entrancing the adults' Whats On Stage
★★★★ 'Old favorite is packed with festive treats' Evening Standard
★★★★ 'Captures the dreamlike strangeness of a much loved Christmas classic' Radio Times
★★★★★ 'I sat in a sea of bewitched adults and wide-eyed children. Puppets. Music. Video. Parachute quantities of fabric. Movement and poise. With light and images keeping your eye focused to avoid the slight of hand'. The Spy In The Stalls
★★★★ Every form of stage magic bursts out of this production… it all builds to a roaring climax. This is an epic children's fantasy realised with ambition, love and care. The Stage
★★★★ The Morning Star
★★★ 'The animal puppetry is as good as it is in The Lion King' London Theatre 1